Temporary exhibition (in situ) at Motel Nordet in Percé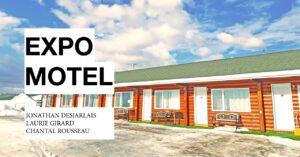 EXPO MOTEL brings together three works by artists from the Gaspé peninsula or temporarily installed in the Gaspé for a one evening exhibition at Motel Nordet. This exhibition, self-produced by the artists, will broadcast in situ, videos of digital artwork through motel windows.
Video projections will be visible from the motel parking lot (motel 2, 3 and 4).
Herbal tea will be served – bring your own cup!
Motel Nordet : 1600, route 132 Est, Saint Georges-de-Malbaie G0C 2X0