Inflatable planetarium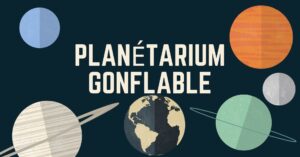 Inflatable planetarium. The audiovisual show will present the Gaspé sky with its constellations, then the Perseid meteor rain. There will be an overview of the planets Jupiter and Saturn, the Moon and the planet Mars. There will also be exploration missions to Mars and more … Each show will be followed by a series of questions and answers with the assistance and host M Audet.
Cost (public) : 5$/person
CAAG member and child under 5: Free
Date
15 Aug 2021
Expired!
Time
10 h 00 min - 12 h 00 min
Location
Centre communautaire l'Oasis de Percé

43, rue de l'Église, Percé G0C 2L0
Next Event
Date

11 Aug 2022

Time

8 h 30 min - 18 h 00 min