Architectural audiovisual projection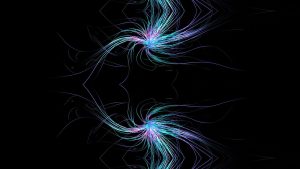 Looped projection on the façade of the UNESCO Geopark of Percé, from September 1 to 5, 2022, from 7:30 pm to 9:00 pm.
Both an immersive audiovisual installation and a performance, The Novels of Elsgüer (Episode 5); If I saw you, I don't remember translates the movements of an invisible body into visual data in the form of filamentous animations, intermittent reflections and flickering shadows.
The opening will take place on Thursday, September 1st from 7:30 to 8:30 pm at the bar and lounge of the Cinéma Les Percéides: 162, route 132 West, Percé.
Cost : Free
Date
01 Sep 2022
Expired!
Time
19 h 30 min - 21 h 00 min
Location
Welcome pavilion of the Geopark

180, route 132, Percé, G0C 2L0
Next Event
Date

05 Oct 2022

Time

19 h 00 min
shows and
events
MO

TU

WE

TH

FR

SA

SU
Events for
5

September

10 h 00 min - 16 h 00 min

Centre communautaire l'Oasis de Percé

19 h 30 min - 21 h 00 min

Welcome pavilion of the Geopark
Events for
6

September

No Events
Events for
7

September

No Events
Events for
8

September

13 h 30 min - 18 h 30 min

15 h 30 min

19 h 00 min - 20 h 30 min
Events for
9

September

15 h 30 min - 17 h 00 min

19 h 00 min - 20 h 30 min

20 h 30 min - 23 h 00 min

55, rue Bonfils, Anse-à-Beaufils, Percé, G0C 2L0
Events for
12

September

No Events
Events for
13

September

No Events
Events for
14

September

No Events
Events for
16

September

19 h 00 min

15 h 30 min

17 h 00 min - 19 h 00 min
26

27

28

29

30

1

2
Events for
26

September

No Events
Events for
27

September

No Events
Events for
28

September

No Events
Events for
29

September

No Events
Events for
30

September

No Events