Scientific Culture Week in Percé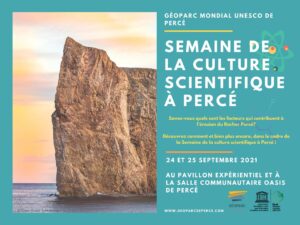 The UNESCO Geopark of Percé is organizing a series of scientific conferences and workshops at the Experiential Pavilion and at the Oasis Community Hall in Percé.
Several distinguished guests will present their projects, such as the École nationale des Pêches et de l'Aquaculture du Québec, Merinov, the Pôle des Technologies Propres de la Gaspésie, Nature Conservancy of Canada, Contact Environnement and the Parc national de Miguasha.
The cost of the activities is $5 per person.