Science Literacy Week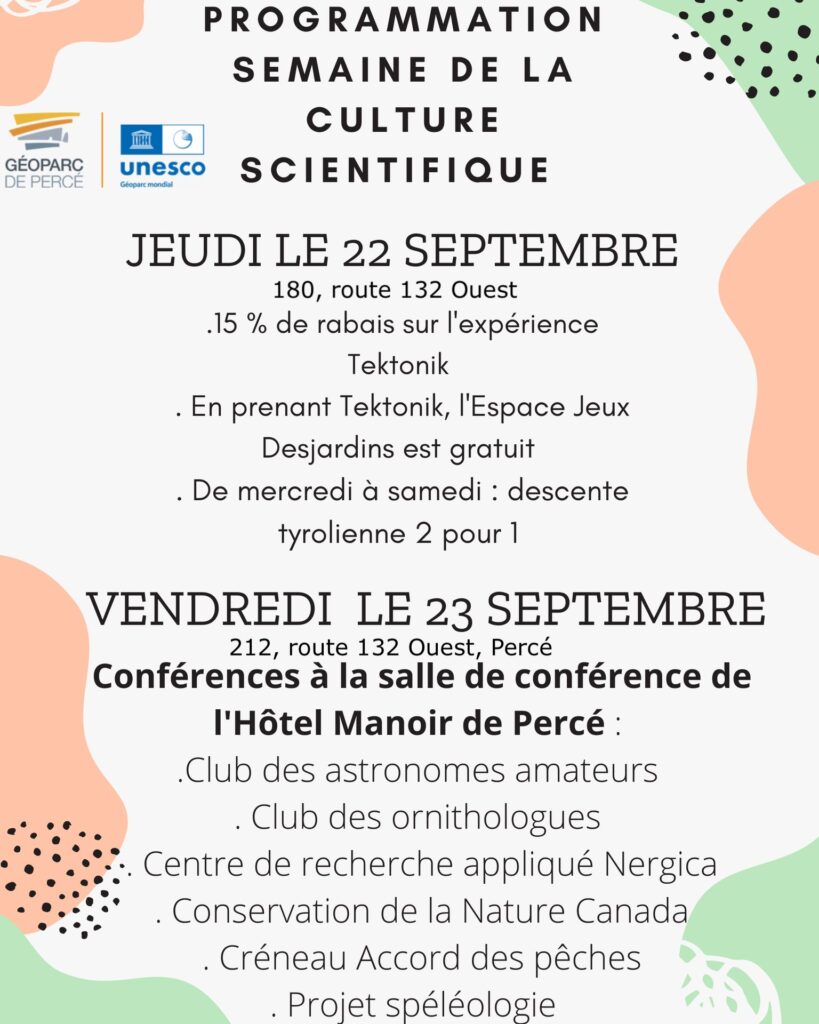 What is Science Literacy Week? It's a week-long celebration of science literacy across Canada. This year, the theme of the week is mathematics.
The UNESCO Geopark of Percé participates in this week by offering scientific conferences presented by different professionals from the region. They will talk about how they use mathematics in their work.
For more information
Admission fee: $5
Date
22 Sep 2022
Expired!
Time
13 h 30 min - 16 h 30 min
Location
Manoir de Percé

212, route 132 Ouest, Percé
Next Event
Date

05 Oct 2022

Time

19 h 00 min
shows and
events
MO

TU

WE

TH

FR

SA

SU
Events for
5

September

10 h 00 min - 16 h 00 min

Centre communautaire l'Oasis de Percé

19 h 30 min - 21 h 00 min

Welcome pavilion of the Geopark
Events for
6

September

No Events
Events for
7

September

No Events
Events for
8

September

13 h 30 min - 18 h 30 min

15 h 30 min

19 h 00 min - 20 h 30 min
Events for
9

September

15 h 30 min - 17 h 00 min

19 h 00 min - 20 h 30 min

20 h 30 min - 23 h 00 min

55, rue Bonfils, Anse-à-Beaufils, Percé, G0C 2L0
Events for
12

September

No Events
Events for
13

September

No Events
Events for
14

September

No Events
Events for
16

September

19 h 00 min

15 h 30 min

17 h 00 min - 19 h 00 min
26

27

28

29

30

1

2
Events for
26

September

No Events
Events for
27

September

No Events
Events for
28

September

No Events
Events for
29

September

No Events
Events for
30

September

No Events