Birdwatching with "le Club des Ornithologues de la Gaspésie" at "Parc de l'Île Bonaventure et du Rocher Percé"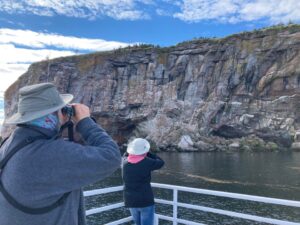 The meeting point is on the rue du Quai in Percé between 8:00 and 8:30 am.
Bring your lunch, the return from the island will be in the afternoon.
In case of bad weather, the activity will be postponed to Sunday June 12.
There are no group reservations, you must purchase your own cruise ticket on site.
Cost: Cruise fee – $45 per person
Access to Bonaventure Island: free
For more information, contact Pierre Poulin, in charge of the activity at 418 616-7792, oiseaux@telus.net
Photo credit Carmen Saint-Denis
Location
4, rue du quai, Percé, Québec, G0C 2L0
Next Event
Date

28 Jun 2022

Time

17 h 00 min - 19 h 00 min